CollegesWales International leads on delivering development opportunities  overseas  for learners and staff through  Erasmus+ and  the Turing Scheme. We also work closely with Welsh Government to shape the International Learning Exchange Programme to suit the needs of further education learners and staff.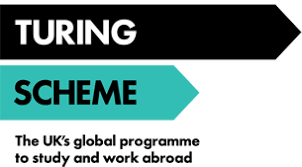 The Turing Scheme provides funding for international opportunities in education and training across the world. It supports Global Britain by providing opportunities for further education colleges to offer their learners life-changing experiences to study or work abroad. The programme was launched in 2021 by the UK government. 
 The CollegesWales International consortium application for Turing Scheme funding was successful and provides opportunities for FE learners to undertake 2/3 week study or work experiences anywhere in the world. The programme places an emphasis on widening participation in overseas mobility programmes by providing additional funding to support disadvantaged and/or vulnerable learners.
CollegesWales International secured just over £1.4million to support 528 FE learners to experience living, working and/or studying overseas. We'll be working with 28 partners in 19 countries worldwide who will support us in developing these opportunities. The consortium is made up of our of 13 FE member colleges with a variety of exciting opportunities available for vocational learners, apprentices and A level cohorts.
Opportunities include:
Welsh medium childcare and sport learners travelling to Patagonia to support schools delivering education through the medium of Welsh
Independent Living Skills learners visiting Cincinnati to find out more about Project SEARCH (a scheme that provides employability skills training and workplace internships for individuals with significant disabilities, particularly youth transitioning from high school to adult life.)
Rugby academy learners going to New Zealand to be immersed in a professional rugby environment
"We're pleased that the Turing Scheme has been introduced and is offering FE learners opportunities to train and study across the world. We have long championed the value of these mobility programmes for vocational learners and are pleased to see the Scheme widen participation to A level learners and those with Additional Learning Needs."
Sian Holleran, CollegesWales International European and International Project Manager
"The past two years have been challenging for international exchange programmes, not least because of the impact of both Brexit and the Covid19 pandemic, which has been felt acutely across our colleges. As restrictions continue to be relaxed, we await clarity on plans for overseas travel, so that we can begin to plan positively for the future. These exciting opportunities to enrich and enhance learning experiences are a key part of the further education experience."
Iestyn Davies, CollegesWales Chief Executive
Further Information
Turing Scheme
The UK's global programme to work and study abroad. Visit the website for further information.
Contact
Our International and European Project Manager Siân Holleran leads the Turing Scheme Programme on behalf of CollegesWales International. Contact Siân for further information: Sian.Holleran@colegaucymru.ac.uk
Related pages
Erasmus+ International Learning Exchange Programme Erasmobility Opportunities Abroad