CollegesWales International leads on delivering development opportunities overseas for learners and staff through Erasmus+, Taith and the Turing Scheme.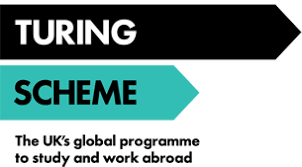 The Turing Scheme provides funding for international opportunities in education and training across the world. It supports Global Britain by providing opportunities for further education colleges to offer learners life-changing experiences to study or work abroad. The Scheme was launched in 2021 by the UK government. 

In 2021, the CollegesWales International Consortium application for Turing Scheme funding was successful and provided opportunities for FE learners to undertake 2/3 week study or work experiences anywhere in the world. The Scheme placed an emphasis on widening participation in overseas mobility programmes by providing additional funding to support disadvantaged and/or vulnerable learners.

CollegesWales International received over £1.4m to support 528 learners across a wide range of curriculum areas to experience living, working and studying overseas. From February 2022, a total of 12 visits took place, to 8 countries worldwide, including Cambodia, Canada and Sweden.

Feedback from learners was positive, with 100% rating their experience as either 'Good' or 'Excellent'. In addition, 98% of learners agreed that the opportunities had developed their overall confidence.
Opportunities included:
10 Health and Social Care learners from Coleg Ceredigion/Coleg Sir Gar travelled to Alberta, Canada to undertake action research into rural health and social care with a focus on the support offered to indigenous populations.
A Level Spanish learners from St David's Sixth Form College visited Barcelona to develop their language skills with Nexgen Careers, who also facilitated a programme to explore the future world of work.
Hospitality and Catering learners undertook work placements in Italian restaurants and hotels in Pistoia, Italy and learnt new food preparation skills.
"We're pleased that the Turing Scheme has been introduced and is offering FE learners opportunities to train and study across the world. We have long championed the value of mobility programmes for vocational learners and are pleased to see the Scheme widen participation to A level learners and those with additional learning needs."
Siân Holleran, Project Manager for CollegesWales International
Further Information
Turing Scheme
The UK's global programme to work and study abroad. Visit the website for further information.
Contact
Our Project Manager Siân Holleran leads the Turing Scheme Programme on behalf of CollegesWales International. Contact Siân for further information: Sian.Holleran@colegaucymru.ac.uk
Related pages